(As always, please redirect yourself to the Vimeo site to watch in HD quality! I'm cheap and won't upgrade...)
REWIND from previous blog post!
Day 8: Friday, June 12, 2015
Eugene was a quirky little town, not at all what I had expected. Zach treated us to dinner and beers the night prior and after several loads of laundry and a good night sleep at Zach's apartment, we drove north to Silver Falls.
Silvers Falls consisted of several very tall waterfalls surrounded by a magically lush forest covered in bright green moss. You could hear the crashing of the water from 100 yards away or more. We approached the river from a higher trail so as soon as it came into view it was a pretty spectacular moment to see the water falling to several hundred feet below. There was a trail that led us down and around the back of South Falls so we could walk completely underneath it and were misted by residuals of the cascading water as the wind blew. The space behind the falls was cave-like and the rocks were filled with fossilized tree roots and specimens of the past.
We drove to a lookout to see the North Falls, bypassing the 12-mile hike to get there from South Falls. From a far it looked like much of the same so we decided to just hit the road for Portland in an effort to beat rush hour traffic.
Portland. Was. Amazing. We were welcomed by some friends of friends, Cara and Jamie Unger-Fink, who were amazing and gracious hosts. They had prior plans that evening but gave us a key to their house and recommended a few good spots to check out in East Portland.
We tried to attend a Fruit Beer Festival but the line was too long to get in so we went for pizza at a killer little joint called Sizzle Pie and then next-door to a really neat bar named Rontoms which had a great outdoor patio in the back with some really neat wooden beam architectural details. At first, we sat anxiously at the bar out back wanting to talk to people, but everyone seemed to already have their own agenda.
Then I saw a bearded man playfully hit his friend, which opened the door for conversation. There were at least 4 or so guys in their group and all pretty attractive so it quickly became a fun night of drunken banter with the guys. We were later told that they all played Major League Soccer for the Portland Timbers, which would explain their passive and omissive explanation of how they all know each other and the fact that they had no problem buying round after round for us, even after they'd been cut-off themselves... I'll leave their names out of it for the sake of their own careers. ;)
Day 9: Saturday, June 13, 2015
We ended up cabbing it back to Cara and Jamie's. The next morning was a ROUGH one. We didn't have anything with us at the house, everything we owned was in the car which was on the opposite side of town. Our phones were nearly dead and the only hope was to call an Uber before they died. That morning we took the recommendation of those MLS players and hit up Tasty and Alder for breakfast and bloody marys. Everything was so delicious!! We had several small plates to share and not one single bite of food was a disappointment.
After food we wondered downtown for a bit before heading to the Saturday Market, which is the largest open air market in the country. Vendors and street performers of every variety you could possibly imagine. It's set up right along the river and they had beer and live music.
I asked the musician playing the main stage if I could use his power strip to plug in my iphone and we chatted for a bit. He was on the road too and headed to Seattle next as well. We told him about our trip and gave him a Reddy2Fight Foundation sticker for his guitar case and he gave us one of his CDs. This has come in handy to increase our very small selection of car music we've had!
We later went to Henry's to watch Game 5 of the Stanley Cup, then a roof top place called Departure, then another place that also came highly recommended by the MLS guys called Jack knife where we met Cara and Jamie. Then they took us to a bourbon bar across town… Needless to say, we really covered a lot of ground and explored much of what Portland had to offer. We called it an early night so we could hike on Sunday.
Day 10: Sunday, June 14, 2015
We got up early to hike Oneonta Gorge which is about 40 minutes outside of Portland and part of the Columbia River Gorge. Oneonta Gorge was above and beyond the most epic hike I have ever done in my life. I cannot even do this place justice with words. There was no actual hike trail; the river itself is the hike. So we tramped through FREEZING cold glacier water, Tetris-ing ourselves under and over fallen trees and huge boulders wedged between two sky-high gorge walls.
Part of the hike lead us through nipple high water with no way around. The water was soooooooo cold that our feet and ankles literally froze and went completely numb. The end of the gorge dead-ended into a breathtaking waterfall. We were already wet and frozen so Katie and I decided we HAD to jump in and swim under the falls. However the current was too strong to make it to the falls the water was cold enough to take the breath right out of our lungs. I have never felt so invigorated.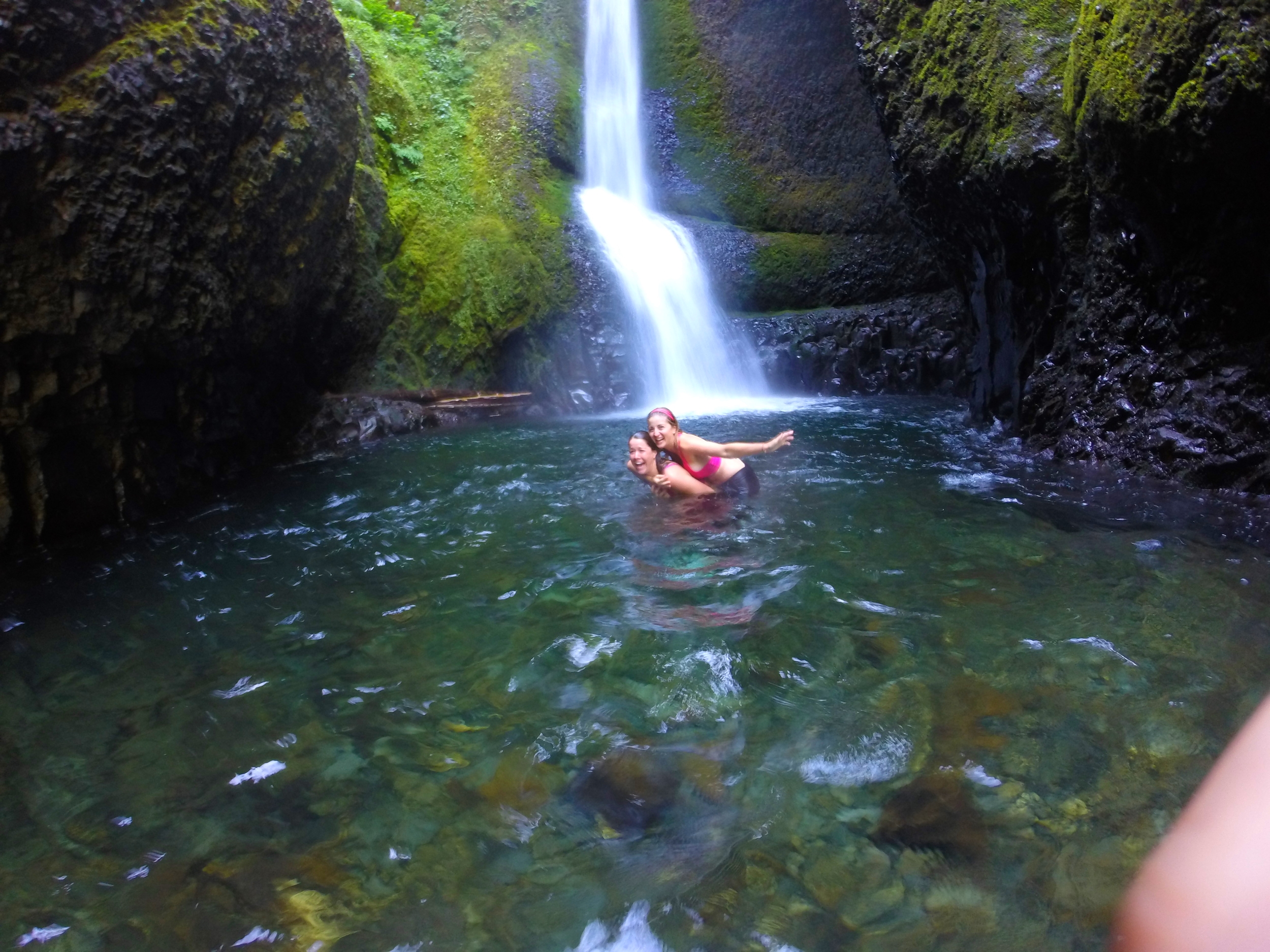 That afternoon we drove to Washington State and met my Uncle Greg, Aunt Tania and Cousin Luca for dinner on Bainbridge Island. It was really great to see the family and catch up with them but we called it an early night in anticipation to catch the early ferry into Seattle the next morning.
Until next time,
Sam